With the re building programmes and the construction of the A66 motorway through the George Street end of the town many famous names have gone.

Pubs that are no longer there are, Harewood Arms,The Bon Lea,Sadlers,Windmill,The York(bobbys),The Fleece,The Crown,The Prince Of Wales,The Victoria,The Flying Dutchman,The Bridge,The Cleveland,The Collingwood,The Commercial,The Burton.Bradford Vaults, The Rokeby,The Britania,The Ship and the Forresters.

Added to the list are the Bon lea club,Nash club and Cons club,Constitutional club,Police club at the Police station.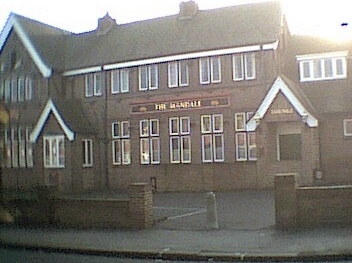 Other pubs in Thornaby at the time were,The Mandale ,Royal George, Jolly Farmers ,The Market Tavern and The Oddfellows. They are still here along with the Queens Club,the Golf Club and the renamed Cleveland -now the Dubliner.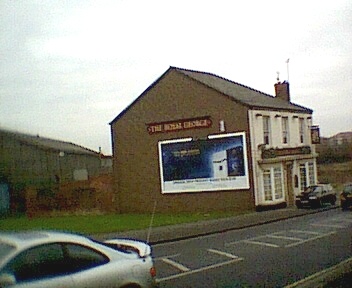 Pictures taken December 16th. 2001 on a typical dull winters morning.
Hotels, Inns, and Taverns. as listed in Bulmers Lists 1890.
Albert Inn, Thornaby road; Miss Lotten Hanson
Bon-Lea Hotel, Bon-Lea ter: Mandale road; Wm. Lynas
Bridge Inn, Bridge st; John Bedlington
Britannia Hotel, Thornaby rd and George st; Wm. Harry Gambles
Cleveland Hotel, 29 Bridge st; Jasper Clarke
Collingwood Inn, 22 Trafalgar street; John Moir
Commercial Hotel, 1 and 2 Trafalgar st; Wm. Wilson
Erimus Hotel, 1 Erimus ter: Middlesbrough road; Noah Bedford
Harewood Arms Hotel, Mandale rd; Thos. Etherington
Market Inn, 62 New street; Hugh Campbell
Rokeby Hotel, Railway street; Mrs. Jane E. Edmondson
Royal George Inn, Thornaby road; James Miller
Sadler's Hotel, 2 Swarthmore terrace; Wilson Furness
Ship Inn, 114 Trafalgar street; David Fernie
Station Hotel, 10 Mandale rd; Mrs. Eliza Hannah Agar
Tees Bottle House Inn, Thornaby road; John Packer
Windmill Inn, Westbury st.; Thomas Walters Newton
York Hotel, 46 George street; William Smith