Public Transport in Thornaby.

Thornaby is quite well served by the 2 main local bus companies.Allthough services are not always punctual.


Arriva run the 15/16/16a from North tees hospital and Roseworth through Stockton to Thornaby and Ingleby Barwick.
They also run the 17/17a and 8/9 services to Middlesbrough and Yarm through Thornaby and the 19/19a Hartburn to Thornaby circular.


Another Arriva service 98/99 runs via Teesdale and links the town with Darlington and Redcar.
Their 20/21 service also runs through Teesdale and links to Redcar and Saltburn,in the other direction the service links to Yarm and Stokesley.Certain journeys also link to Teesside Airport.


Stagecoach run the 36/37/38 service from Hartlepool,Billingham and Stockton through Thornaby to Middlesbrough.
They also run the 52 service from Billingaham to Middlesbrough and Hemlington calling at Teesdale and the Teesside Retail Park.

Thornaby Station
Thornaby station has now undergone a full re-vamp and is now a manned station with CCTV in operation around the clock.

After many worries and much campaigning to keep the station and its name the efforts have been rewarded.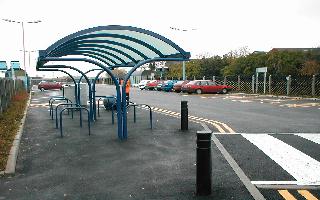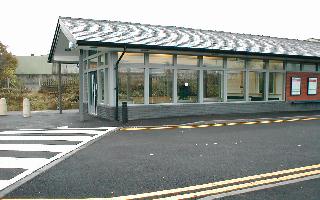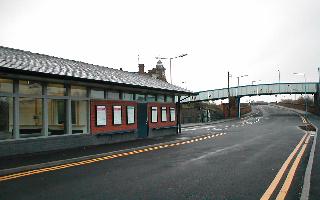 But after all the money spent on the revamp they still left damaged platforms for people to fall,or trip on.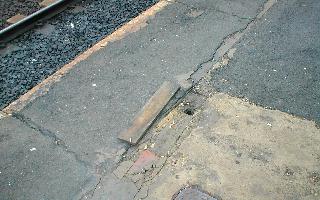 After an e mail from the editor of this site the offending holes were repaired within days by Arriva and their agents Jarvis.

How the change happened
AN ARTICLE FROM THE GAZZETTE .11/8/2000
A DETERMINED pensioner has vowed to chain herself to posts at a railway station if all else fails to stop its name being changed. Lily Atkin, 77, is one of a group of fiercely proud pensioners who have vowed to fight to the bitter end any plans to rename Thornaby Station. The angry OAPs are overwhelmingly against Northern Spirits proposals to drop the towns name from the rail map forever as part of its plans for dramatic improvements at the station. The pensioners believe it would be another nail in the coffin for Thornaby identity. Mrs Atkin, an ardent campaigner for Thornaby, has long ties with the railway station.

Her late father Albert Crooks was signalman there for 38 years and she has fond childhood memories of visiting him while he worked. Her brother was a train driver, her great grandfather was an engine shed foreman and her great-great-grandfather and an uncle also worked on the railways. The gutsy grandmother said the station played a great part in the towns history and believes it should retain Thornabys name. It was much busier than it is now and I remember it was lovely, full of flowerboxes. It is Thornaby station, always has been and always should be. I`ll even chain myself to the posts if need be to stop the name change going ahead, she said. Mrs Atkin has gathered more than 200 names on a petition and intends sending copies to Northern Spirit and Stockton Council. The rail operator is bidding for funding for a massive improvement scheme which would make Thornaby Station more important as a rail link than Stockton, because of its link to the Trans-Pennine line. The fact this would attract a wider travelling public is one reason for the considered name change - Stockton South is one suggestion, as a number of UK stations are named after the nearest largest town. While the renovation plans have been widely welcomed, Thornaby councillors on Stockton Council have vowed to fight any name change. And Thornaby Town Council has fired off a letter of objection to Northern Spirit. Campaigner Noemi Windsor, 80, originally from Genoa in Italy, has lived in Thornaby for 53 years. Her husband worked on the railways and she said there was no way the name should be changed. Sybil Gregory, 74, chairman of Old Thornaby Residents Association, said: They are trying to wipe Thornaby off the map. The rail operator said no decisions have been taken and the public would be consulted.

Victory.
Evening Gazzette 15/8/2000
Victory in station name fight
PEOPLE power has won the day - and saved the name Thornaby for the towns station. Furious locals mounted a campaign against plans to rename Thornaby station Stockton South or Parkway.
Letters and petitions were written and one pensioner even vowed to chain herself to the railings.
But today Northern Spirit did an about-turn in the face of overwhelming opinion and agreed to stick with Thornaby.
Nigel Patterson, managing director of Northern Spirit - part of Arriva - was due in town today to announce the change of heart.
And he will also give details of a .£250,000 revamp planned for the station.
Mr Patterson said: I am delighted to announce that the name of Thornaby station is here to stay.
The postbag against a name change was staggering - so long may Thornaby continue.
Todays announcement was greeted with joy by the people of the town. Thornaby Councillors Ken and Eileen Craggs, who represent Thornaby on the parish and borough councils, said they were thrilled.
It is a victory for the people and we are delighted. People who have never written letters to complain about anything before even got involved in this, said Cllr Craggs.
And Cllr Steve Walmsley, who represents Mandale ward on Stockton Council, said: This is great news because we are trying to talk the town up.
We want it to stay on the map, for people to know here it is and where to invest their money. We are sick of being second best and nobody was going to take our name away."
Determined Lily Atkin, 77, who had vowed to chain herself to posts at the railway station, joined Cllr Craggs in toasting the victory.
Her late father Albert Crooks had been a signalman there for 38 years and she was livid at the suggestion of a name change.
Ivor Morgan, vice chairman of Thornaby Town Council said: We believe as a community our community roots and identity should remain.
We have been in negotiations with Northern Spirit and wrote the first letters of protest. They have taken that on board and we are delighted.


MORE GOOD NEWS

Evening Gazzette 16/8/2000
Cheers as station name stays
JUBILANT Thornaby campaigners have heard more good news about their station.
Managing director of Northern Spirit, Nigel Patterson was in town to confirm that the name of the station will not change.
And as well as sticking with the old name there are plans to turn the clock back and make Thornaby a manned station again.
Mr Patterson announced a bid for cash to improve the station which will see it - as a station with links to the transpennine route - take a more important role.
He said it was hoped the £250,000 worth of improvements would be in place by this time next year.
The scheme has yet to be finalised but would include park and ride facilities, 60 parking spaces, CCTV cameras, lighting and better security.
As well as bringing real benefits to regular rail users, improvements will encourage motorists to use the train instead of their car. It benefits passengers and the environment," he said.
The improvements package features advanced information technology to give passengers up-to-the-minute travel information 24 hours a day, seven days a week.
He said it was hoped the investment would mean it would attract travellers from a wider area.
Yesterday it was announced plans to change the name of Thornaby Station to Stockton South or Parkway had been scrapped.
A massive wave of protest forced a change of heart - which Mr Patterson was happy to confirm.
It was quite obvious that the local community have a strong depth of feeling and any plans to change the name have gone. The postbag against a name change was staggering.
Furious locals had mounted a campaign against the suggestion with Thornaby Town Council heading the protests.
The council was joined by residents and community groups who yesterday met at the station to cheer the U-turn.